Why Retire Here?

You can live larger with our lower taxes. South Carolina does not tax Social Security benefits and provides a generous retirement-income deduction when calculating state income tax. State income-tax rates are reasonable and property taxes are very low. Taxes are based on 4 percent to 6 percent of the market value of the home, and senior homeowners qualify for a homestead exemption. When you consider the total package of housing, taxes, utilities and daily living expenses, Myrtle Beach is one of the most affordable cities to live in, and property taxes in the area are among the lowest in America with city of Myrtle Beach residents receive an astounding 88 percent property tax credit.
South Carolina a top state for retirees due to tax breaks, says Kiplinger. "Click here for the full article"

Click here for Myrtle Beach area Realtors.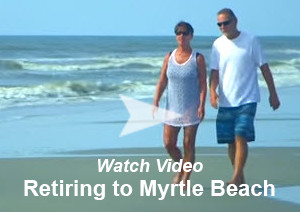 Excellence in healthcare. With a significant retirement population already enjoying life along our shores, those concerned about top-notch healthcare can rest assured that our area has them covered with award-winning medical centers that use some of the best technology and treatments available. The area also offers a wealth of in-home health services, transportation assistance services and so much more.

Lead an active lifestyle in a community that cares. Over 60 miles of uninterrupted shoreline and over 100 championship golf courses and over 600 fine arts events annually ensure there is plenty to do in your downtime. While we believe in making the most of playtime, the Myrtle Beach area is also a community that cares about our residents. In addition to being able to lead an active lifestyle, retirees will also find plenty of ways to give back—all while meeting interesting people in the area! Religious organizations, arts groups, professional associations, community service groups and medical facilities are always in need of volunteers while they supply valuable support and assistance to the community we call home.
First Person
Jeanie Reeder vacationed along the Grand Strand growing up, but she and husband Tom traveled from their Lexington, Ky., home to Oak Island, N.C., with their children for getaways. Expecting to retire to the North Carolina coast, Jeanie and Tom looked for five years without finding the perfect spot.
When a girlfriend of Jeanie's invited the couple to Barefoot Golf & Resort to see a lot she had just purchased, they visited and ended up buying a neighboring lot that very morning. Says Jeanie, "That was eight years ago, and from that day on we have not looked back. We absolutely love it here! Tom is an avid golfer, and I enjoy the beach. I go every day in the summer."
Myrtle Beach is an obvious golf haven for those who love the sport. With countless area courses with greens fees to fit any budget, retirees living in Myrtle Beach have the ability to take full advantage of it's resources, (and invite friends down to play a few rounds too!) Aside from great golf, Myrtle Beach attracts retirees with its warm weather, low cost of living, and ample entertainment. Broadway at the Beach is a must see in the city with restaurants, shopping, live entertainment, and nightlife. Myrtle Beach has a few noteworthy neighborhoods, starting with the Barefoot section of North Myrtle Beach. This area has a variety of dining and entertainment options, and is also nearby many of the area's top golf courses. Cherry Grove Beach is a small stretch of land in between North Myrtle Beach and Little River, and has a ton of oceanfront access and accompanying activities such as fishing and boating. Murrells Inlet, known as "a small drinking town with a big fishing problem" is awash with great restaurants and nightlife spots, as well as a few ideal locations to cast your pole! Click on the above tabs to learn even more about what it's like to retire in Myrtle Beach.
At a glance
Population: 31,095
Median age: 37
Median Household Income: $ 36,293
Nearest City with Population of 200k+: Raleigh, NC
Population Growth Last 3 Years: 10.7%
County: Horry
Age Breakdown (%)

Purple- 55 and under
Blue- 55 to 64 years
Orange- 65 to 74 years
Green- Over 75

Gender breakdown over 65 years (%)


Blue-Men
Red-Women
City Highlights
A golf lover's dream

Low cost of living

Close proximity to airport

Warm weather

Tax friendly
Airports
Closest Airport: Myrtle Beach International Airport
Closest Major Airport: Myrtle Beach International Airport
eRetirements has partnered with a network of over 12,500 top performing Realtors covering 91% of the United States. These Realtors will show you around town, assist you in viewing properties, and provide you with local info that would be nearly impossible to discover on your own.
Cost Of Living
A Kiplinger rated "Tax friendly" state should make The Grand Strand attractive to you if you're trying to prevent too much of your income from getting taxed. While there is income tax and most pensions are taxed, the blow is lessened by sales tax breaks for seniors over 85.
Kiplinger Rating: Friendly
State Income Tax: 3-7%
Social Security Tax? None
County + State Sales Tax: 8%
Property Tax Rate*: 0.4%
Property Tax Ranking (County Property Tax rank out of 2,773, higher rank=lower rate)*: 2644
Cost of Living Index (100=average): 92.8
Housing + transportation costs as % of income: 55%
Food Summary
Although not known as a common destination for foodies, Myrtle Beach does have a variety of culinary choices. Although Italian restaurants seem to be the most popular, there are other international offerings such as sushi, and even a Brazilian steakhouse.
906
68
Fried Seafood
Culture Summary
Myrtle Beach has a few unique museums, such as the Wheels of Yesterday for car fanatics, the Hollywood Wax Museum, and Ripley's Believe it or Not. Residents can also enjoy a show at The Carolina Opry, Good Vibrations, or the Carolina Improv.
18
6
1
2
1